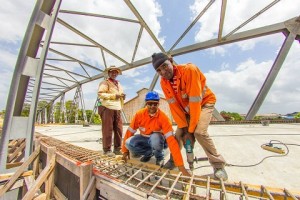 Type of Ownership:
Limited Liability Company ( N.V. )
Shareholders and Management:           
Waldo N. P. Ramdihal Mechanical Engineer
– Chairman of the Board  and Shareholder
Serwan Sewnundun  B.Tech.
– Technical Manager
Akushla L. Ramdihal
– Financial & Administrative Manager
Willem A. D. de Miranda BSc. LL.M.          
– Member of the Board
Drs. Rajeev Ramdihal R.A.
– Member of the Board
Other Specialized  Staff:
Bachelors in Economy and Administrations.
Bachelors in Constructions and Civil Engineering.
Secondary School in Administration.
Certified Riggers, Mechanics, Welders, Construction Workers  and   Safety Personnel.
Present Employment:
Approximately 30 permanent employers (including Staff)(variable amount of employers)  and several Sub Contractors depending on projects under execution.